IDO-maru remains
---
Ido-maru
 Area: ca. 730㎡
Elevation: ca. 37m
Stone wall
  Length (extension) ca. 28m
 Height (extension) ca. 5m


Buildings
Ido (well)・ Idomaru-yakata (house for well)
Idomaru-yagura (turret)・Idomaru-mon (gate)・Dobei(earthen walls)
---
Although only a narrow Kuruwa (defensive territory), it played a central role in the protection of Uwajima castle's water supply and was equipped with a strong stonewall, turret and gate at its entrance. Shikibu-maru also has a well, but this well is larger, with a diameter of 2.4m and a depth of 11m. By utilising the valley's topography, a natural water channel provides fresh water through this well.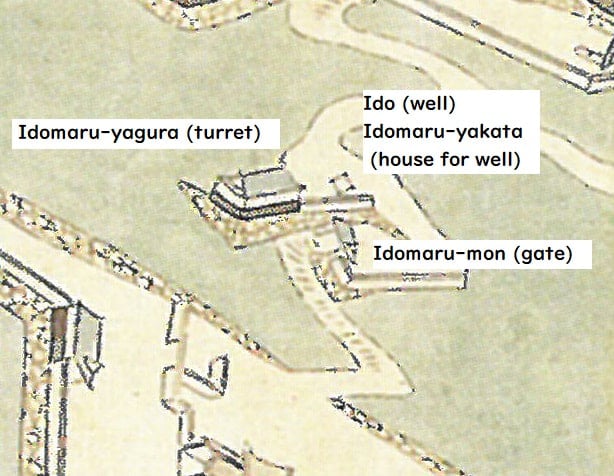 (Drawing of Uwajima Castle (detail) 1699)
---
This is a unique place, not found in any other areas of the castle, where you can find a stone monument with an epigraph located at the edge of the well, documenting repairs in the year 1822. A similar description can be found in the records of the Date clan in Uwajima.