DAIEMON-maru ishigai -Various old and new stone walls-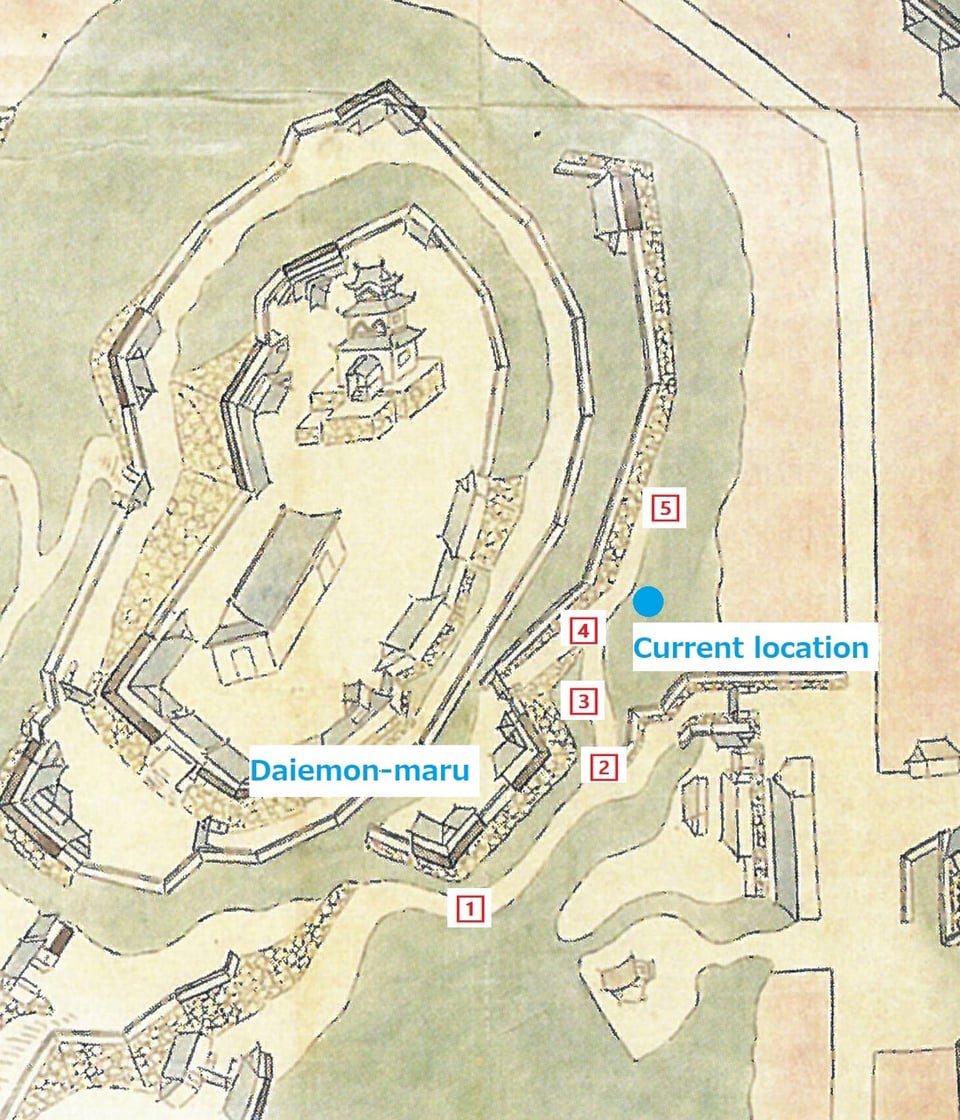 (Drawing of Uwajima Castle (1699) )



Inside the Daiuemon-maru exist a rich variation, some very old some very new, of stone wall types. Especially in the corners of a stone wall, the main characteristics are visible.
① is called "Nozura-zumi(stacking)" using almost unprocessed stone, and the ridgeline of the corner does not pass through cleanly.
② is a corner made of stone carefully processed with a chisel (only) and falls into the category called "Kirikomi-hagi". This corner is with 15 meters, the highest in the castle.
Although ① and ② are a stone wall with a continuous surface, it is thought that ① was repaired around the beginning of the 17th century and ② was repaired around 1851. This is the reason why it is sometimes difficult to determine, uniformly the age of stone walls even within the same compound (kuruwa).
③ refers to ① and ② combined. Although it is not as processed as ②, stone material was prepared with a Genno (bushhammer), and it is called "Uchikomi-hagi". Mazume-ishi are rarely used here, for the Tsuki-ishi fit neatly without gaps. The stonewall part ④ is like ③ chiseled wit a hammer, however ,Mazume-ishi were used here to fill the gaps. The structure dates back to the 18th century.
Similar to part ①, part ⑤ uses a lot of unprocessed stones, but utilises huge boulders over 1 meter, stacking them in close to a right angle to make them appear bigger.
Such huge boulder stones are sometimes called "Kagami-ishi" and "Oohira-ishi", and such stone walls are built along the road leading to the palace. However in this case, there is only a turret ahead, and the road is a dead end. It dates to the times of the founding of the castle by Todo Takatora and there might have been important roads and facilities here that are not in the illustration.






---
TECHNIQUE BRIEF
---
The corner parts are called (Gukaku-bu), whereas areas between are called Tsukiishi-bu). The Tsukiishi-bu consist of large Tsuki-ishi rocks and small Mazume-ishi rocks to fill the gaps in between. Ishigaki are roughly divided into three types according to the degree of stone processing.

   Nozura-zumi (unprocessed material)
   Uchikomi-hagi (rough processed material)
   Kirikomi-hagi (fine processed material)


---
↑Excavation survey of the ③ stone walls components
Old stone walls that are thought to be from the period of ① remained and new stone walls were added.